Edinburgh is ready to welcome students and early careers to the large EAGE network of Near Surface Geoscience professionals. In preparation for NSG2023, the EAGE Near Surface Geoscience Circle took the initiative to lead an online workshop for students on 7 July to introduce them to the conference and what the Association has to offer them, as well as kick start a conversation on the future. Participants of the workshop included students attending the 2nd International Summer School on UHS as well as EAGE student members from the Near Surface space. The workshop, titled 'Geoscience Careers in Transition', was a fantastic opportunity for these two groups of MSc, PhD and postdocs to come together and discuss their common challenges they will face.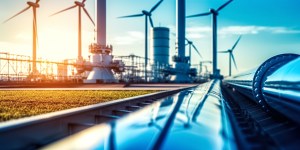 Prof. Deyan Draganov (TU Delft and member of the EAGE Near Surface Geoscience Circle Committee) coordinated the programme, along with a team of experts, each representing a different type of organisation: Suzanne Hurter (University of Queensland and TNO), Matthias Imhof (ExxonMobil) and Jorien Schaaf (EBN). Recognizing that the energy transition will be the main game-changer in the coming decades, the conversation began from a review of the current market situation. Many of the attendees were studying abroad and exploring opportunities in different countries. Those applying for PhD programmes found it beneficial to connect with peers studying in various parts of the world to consider their next steps. All had the opportunity to address their concerns and ask their most pressing questions on skills, training, transitioning between industry and academia, and more. The experts agreed that while most geophysics knowledge can be applied across multiple fields, especially across the multidisciplinary landscape of Near Surface Geoscience, continuous professional development is crucial for picking up new developments and adapting to new domains. They also emphasized that conventional energy resources will remain essential for a considerable period, even as we rapidly expand renewable sources such as wind power.
If you too are assessing your next career steps, join the Students Exhibition Tour at NSG2023: a unique chance to connect with companies exhibiting at the event, hear about their current projects, skills needs and advice for early careers.
Workshop participants were then divided into teams and tasked with creating a job advertisement aimed at young professionals for one of the three types of organisations represented by the panelists: an energy company, an independent research institute, or a governmental energy institute. The subsequent discussion explored trends and concerns related to the recruitment market, including the most interesting points companies are looking for in a resume, the role of continuous learning, flexibility in the workplace and multidisciplinarity.
If you are in the process of choosing your career path, wondering which roles will be the most demanded by the industry, make sure to sign up for the EAGE Mentoring Programme. Don't miss the opportunity to be matched with senior and mid-career professionals who can provide you with career guidance. Pass by the EAGE Community Hub at NSG2023 to find more information.
Organisations, especially for entry-level positions, seek individuals with versatile profiles, with the willingness to invest time into training, while specific tools and standards can be acquired on the job. As major industry players undergo significant changes, they actively seek flexible professionals. Similarly, early-career individuals prioritize companies that offer flexibility and training opportunities. Clearly stating work permit status is crucial in the fast-paced and highly competitive job market, where a majority of candidates apply from abroad. And where flexible and multidisciplinary work environments are concerned, hiring organisations also look for strong communication skills in order to organise work – and teamwork – more efficiently.
We look forward to expanding this conversation at NSG2023: students and early careers will find a dedicated programme, including opportunities to get involved and connect with the network of the Association.
Big congratulations to the participants of the Summer School for successfully completing their programme! We hope to see many of you in Edinburgh and future EAGE activities.